Jackfruit tacos with pineapple chutney, creamy slaw and curry fries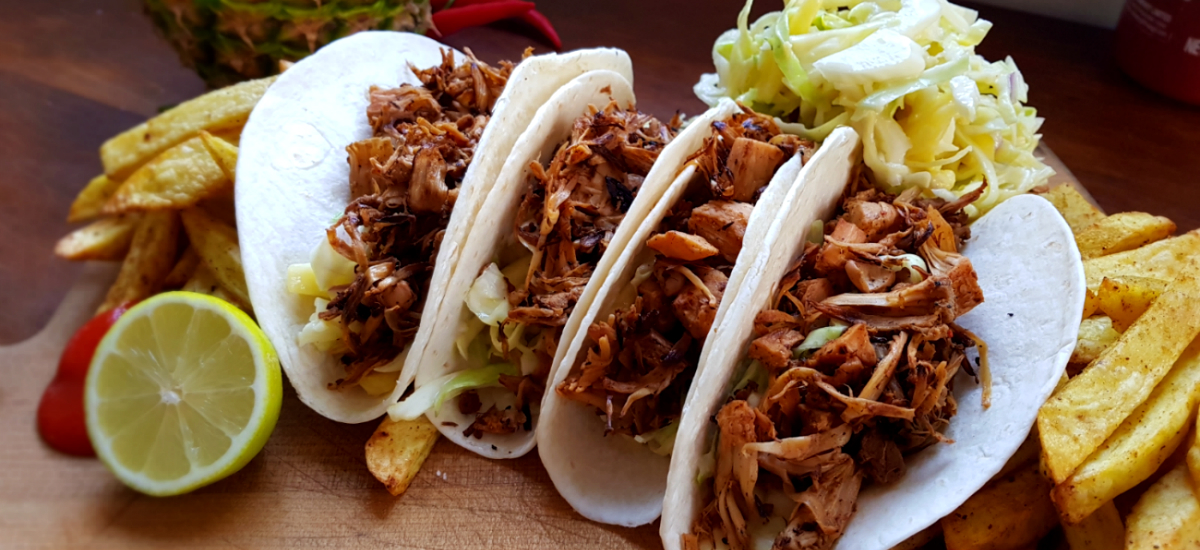 Instructions
1
Open and strain jackfruit. Slice the jackfruit into thin slices.
2
Bring a medium pot of salted water to boil.
Preheat the oven to 180 degrees Celsius.
3
Mince the garlic.
In a small bowl combine the garlic with the jackfruit marinade. Pour the marinade mixture over the pulled jackfruit, combine well and allow to sit.
4
Peel the potatoes and cut into fries about 1 to 1.5 cm wide. Cook in boiling water for about 5 minutes. Do not overcook. Strain and allow to cook slightly before tossing in a little oil, curry powder and a pinch of salt. Bake for 12 to 15 minutes, or until crispy, flipping once or twice.
5
As thinly as possible, slice the cabbage and place in a bowl.
Slice the red onion and place in a bowl with the cabbage.
6
Add pulled jackfruit to a hot pan and with a splash of oil, cook the jackfruit for 4 to 5 minutes. Don't stir too often, allow the jackfruit to brown and a get a little crispy.
7
Serve warm tacos (heat in a microwave, or an oven if you want), topped with slaw. Add the jackfruit on top and finish with the pineapple salsa.
Serve with fries and any remaining slaw on the side plus your favourite sauce.