Autumn Bowl with sauerkraut, brown rice, roast beetroot, hummus and gremolata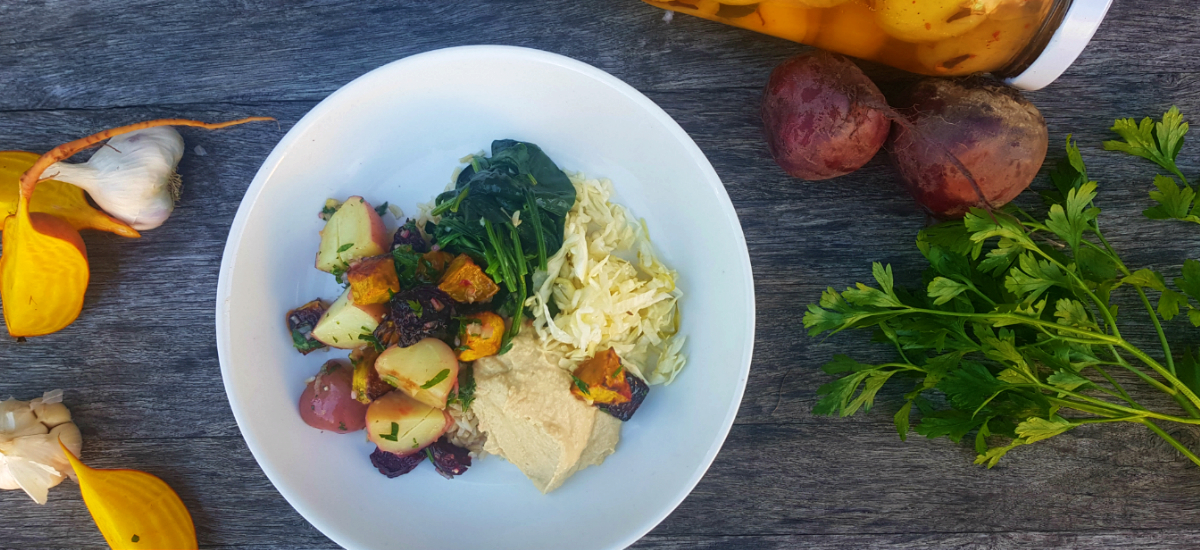 Ingredients
Preserved lemon gremolata
Instructions
1
Preheat the oven to 200 degrees Celsius.
2
Cut the potatoes into quarters and place in a bowl.
Peel the beetroot and dice into roughly 2 cm cubes. Place in the bowl with the potatoes, toss with oil and a pinch of salt.
Place on an oven tray and roast for 25 minutes, or until fully cooked and starting to brown.
3
Bring a small pot of lightly salted water to boil and cook the brown rice for about 15 to 18 minutes, until fully cooked, strain and keep warm once cooked.
4
Mince the garlic.
Trim the roots off the spinach and soak in cold water so the dirt sinks to the bottom. Pick out the spinach and strain.
5
Once the beetroot and potatoes are almost ready, fry the garlic in a little oil in a small to medium sized pot. Add the spinach with a pinch of salt and cover. Cook for about 2 minutes, until wilted.
6
Toss the beetroot and potatoes with half of the gremolata.
7
Serve rice topped with spinach, hummus, beetroot and potatoes and sauerkraut. Top with extra gremolata on the side.