Miso eggplant with sticky rice, blistered cherry tomatoes, sesame and pak choi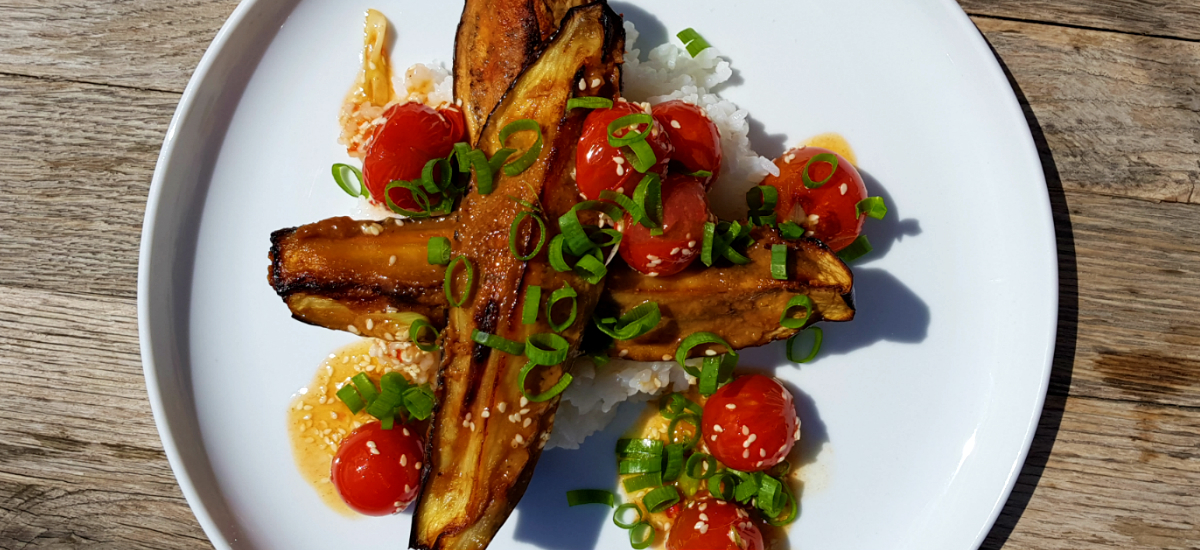 Ingredients
Roast sesame and hemp seeds
The cherry tomatoes should breakdown and form a simple and delicious sauce to pour over the eggplant and pak choi.
Instructions
1
Preheat the oven to 190 degrees Celsius.
2
Wash the rice in a sieve under running water until the water runs clear. Add to a small pot with one and half times the amount of water. Bring to a boil, stir, and reduce the heat to low, then cover and cook for 12 minutes. Turn off the heat and let sit on the element for 5 minutes.
3
Remove the top and cut the eggplant into quarters or sixths lengthwise, depending on the size. Place on a baking tray, then drizzle with oil and sprinkle with a little salt. Roast for 10 to 12 minutes.
Remove from the oven and spread over with the maple miso glaze evenly, coating the fleshy side of each piece. Roast for another 5 to 7 minutes until dark brown (a little black is good!).
4
Cut the pak choi into rough 5 cm strips.
Cut the courgette in half lengthwise, then slice into half centimetre half-moons.
Halve the cherry tomatoes.
Thinly slice the spring onions.
5
Heat a large heavy-bottomed fry pan (or wok) to high heat. Add a splash of oil, then add the pak choi, courgette and stir fry for 60 seconds. Add the cherry tomatoes. Continue cooking for a minute or so, until the tomatoes just start to breakdown. Place in a bowl and toss straight away with the sesame dressing.
6
Serve rice topped with eggplant, pak choi and courgette. Scatter over with tomatoes and some of the remaining dressing, then top with spring onions and toasted seeds.