Roast pepper, tomato and courgette spaghetti with organic greens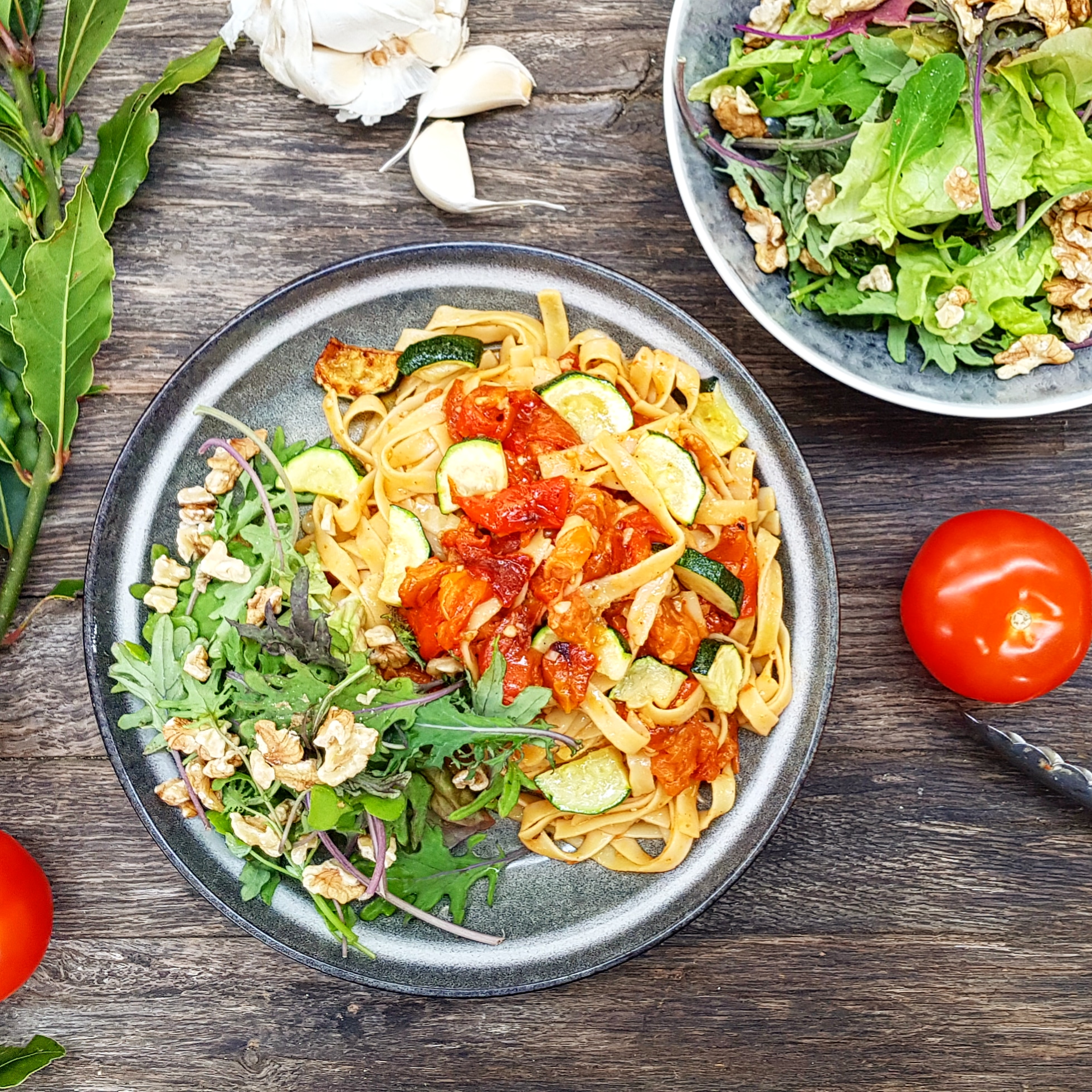 This recipe needs a good splash of extra virgin olive oil!
Instructions
1
Preheat oven to 210 degrees Celsius.
Remove the core from the tomatoes. Halve and lay on a baking tray. Drizzle with olive oil, then sprinkle over salt, black pepper and a little sugar.
Remove the thyme leaves from the stalk. Take the stalks and tuck them under one of the tomatoes to get every last bit of flavour from them. Cut the leaves and sprinkle over the tomatoes.
Roast for 15 to 18 minutes, until they start to brown.
2
Halve and thinly slice the red onion and mince the garlic.
Cut the courgette into thin rounds.
In a medium saucepan on medium heat, sweat the red onion and courgette in a good splash of olive oil for 2 to 3 minutes before adding the garlic and frying for another 30 seconds. Add a splash of wine if you have one open, red or white. If the tomatoes aren't ready, remove from the heat.
Once the tomatoes are cooked, transfer to a board and roughly chop. Transfer to the saucepan and break them apart some more. Cook for 10 minutes on low heat.
3
While the tomatoes are stewing, prepare the peppers. Turn the grill on to high and set the rack up to the highest shelf.
Bring a large pot of salted water to the boil.
Place the peppers on the rack and allow them to blacken for about 5 minutes, rotate and then continue to grill until all sides are black.
Once blackened, transfer to a bowl and cover with a plate or cling wrap. Set aside for a few minutes.
4
Peel the peppers. The skin should fall off easily. Remove the core and seeds and discard. Slice the pepper into thin strips, toss in a little olive and rip in the basil. Set aside.
Cook the pasta in boiling water for 10 minutes, or until tender. Strain and toss in a little oil.
5
Add the sauce and red peppers to the cooked pasta. Season with a little salt and some more olive oil (think Mediterranean diet — olive oil is good!)
Taste the sauce and add more sugar or salt, if needed.
6
Dress organic greens and walnuts with the vinaigrette and a little pinch of salt.
Serve immediately.