Spaghetti puttanesca in a Shiraz reduction with simple Italian greens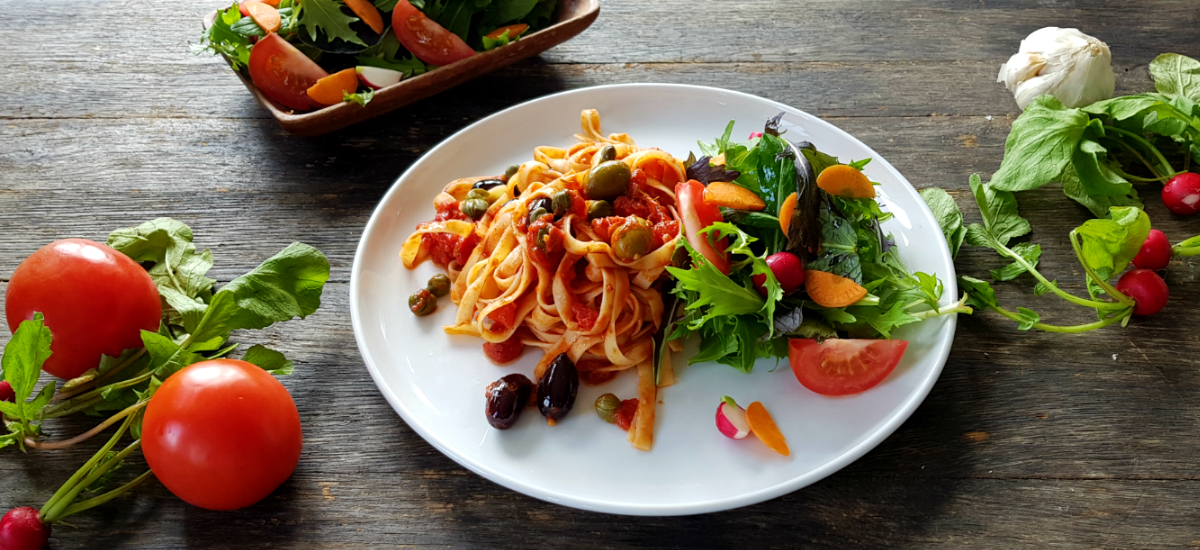 Ingredients
Shiraz and herb tomato paste
Black and green olives with capers
Spring Collective mesclun
Add a good amount of olive oil when you fry the garlic. This gives the sauce a wonderful richness.
Instructions
1
Mince the garlic.
In a medium pan on medium heat, cook the garlic for 45 seconds in a big splash of olive oil.
Add the tomato paste and cook for another minute, stirring regularly. Add the tinned tomatoes. Bring to a simmer, then reduce the heat to low. Add the capers and olives.
2
Bring a large pot of salted water to boil. Once the water is boiling, cook the pasta as per packet directions (between 9 to 12 minutes) in boiling water.
Remove the parsley leaves from the stalk and finely chop. Add to the sauce.
Taste the sauce and add a little salt, as required.
3
Place the mesclun in a bowl.
Cut the cherry tomatoes in half and add to the bowl.
Add the seed mix, a pinch of salt, and the dressing. Gently toss to combine.
4
Serve pasta topped with puttanesca sauce and with the tossed salad on the side.