Taco salad with garlic roast peppers, cumin beans, avocado and tomato lime salsa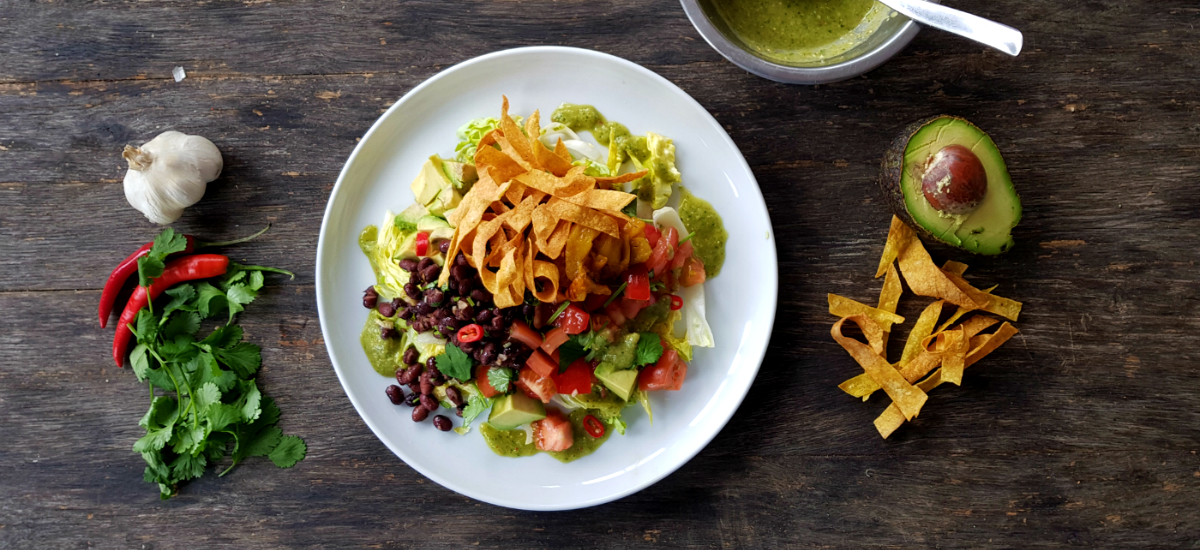 Tomatillo is a relation of the tomato that originated in Mexico. It's a staple in Mexican cooking.
Instructions
1
Set the oven to grill, then set the peppers just below the element and char until black all over.
Place in a bowl and cover with a plate or cling wrap. This steams them, making the skin easier to remove. Allow to sit for 10 minutes.
2
Switch the oven to bake. Slice the tortilla into 1 to 2 cm strips, toss with oil, then bake in the oven for about 5 minutes, tossing regularly, until golden and crispy. Watch them, they will burn quick!
Once cooked, toss with salt while they are still hot so it sticks.
3
Remove the core from the tomato and dice. Place in a bowl. Cut the avocado in half, remove the stone, dice, and place in a bowl with the tomatoes. Dress with a splash of olive oil and a pinch of salt.
4
Mince the garlic.
Open, strain and rinse the beans.
Wash the radish and thinly slice.
5
Peel the peppers and thinly slice. Mix with a third of the garlic, add a splash of olive oil and a pinch of salt.
6
Get a large fry pan hot. Fry the cumin seeds in a good splash of oil for 15 seconds, add the remaining garlic and cook for another 30 seconds before adding the beans and a pinch of salt.
7
Thinly slice the lettuce. Place the lettuce and radish on a plate and drizzle with some of the salsa.
8
Pile everything on a top of the lettuce and drizzle with remaining salsa. Dig in!