Tomato, fennel and cannellini bean soup with sundried tomato garlic bread and hazelnut dukkah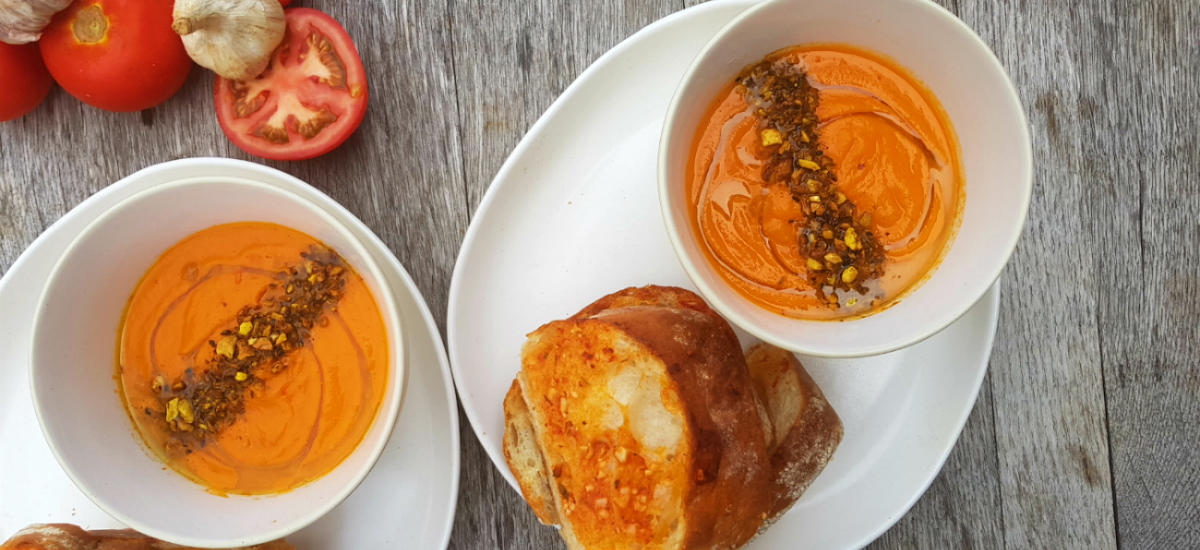 Throwing the parsley in at the last minute helps keep the fresh flavour.
Instructions
1
Peel and dice the onion and the carrot.
Chop the fennel in half lengthwise, then dice. Use it all including the stalk.
Peel and mince the garlic.
2
Preheat oven to 180 degrees Celsius.
3
In a medium pot on medium heat, sweat the onions, fennel and carrot in a little oil for 3 minutes. Add the garlic, a pinch of salt and a pinch of sugar, then cook for another minute.
4
Once the onions are translucent and the garlic is just starting to brown, add the tomatoes and stir well. Add the water, soup stock and cook for about 15 minutes, taste and add more salt, if needed.
5
While the soup is cooking, prepare the sundried tomato garlic bread.
Slice the bread on a slight bias, not quite all the way through. Spread each slice with the butter, then wrap in foil and place in the oven for 10 minutes. If you like it crispy, unwrap it and bake for another 5 minutes.
6
Remove the parsley leaves from the stalk and roughly chop, add the leaves to the soup and cook for minutes or two.
Remove the bay leaves and discard.
Blend the soup for at least a minute, until very smooth. You may need to add a little more water.
Open, strain and rinse the beans.
Return the soup to the pot along with the beans and heat through. Taste and add more salt, as needed.
7
Serve the soup sprinkled with dukkah and with garlic bread on the side.