Twin bean enchiladas with sour cream and pickled jalapeños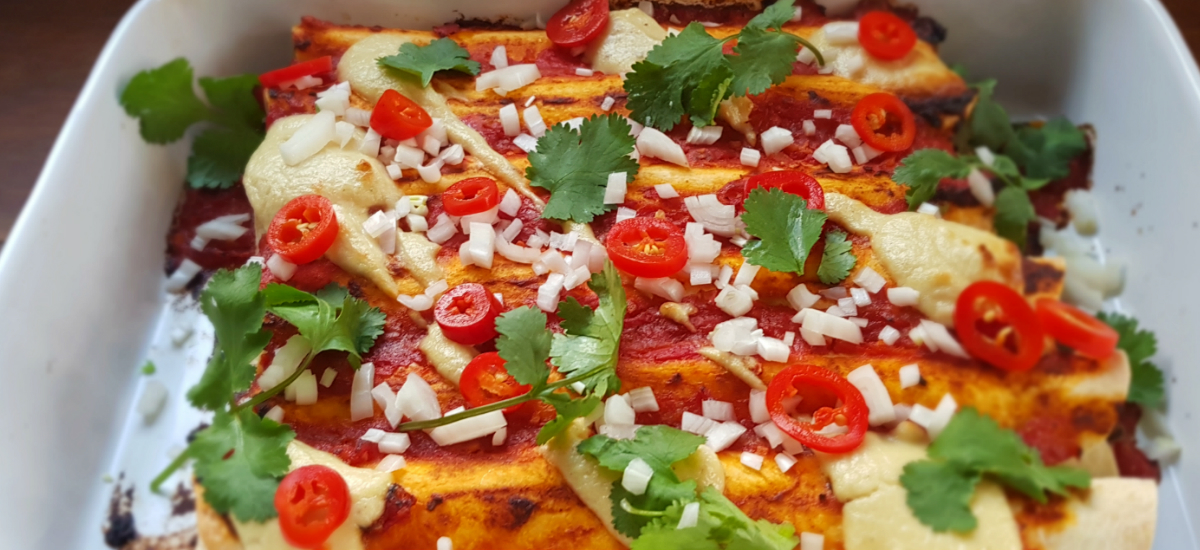 Remember to reserve a little of the red onion to add that wonderful crunch on top.
Instructions
1
Mince all the garlic and separate into two piles.
Finely dice the red onion, and set a third aside for garnish later.
Preheat the oven to 180 degrees Celsius.
2
In a small pot with a little oil, sweat the red onion for 2 minutes on medium heat before adding half the garlic and cook for another minute. Next add the tomatoes.
Rinse the tin with a little water and add that to the pot with a pinch of salt and sugar. Bring to a boil, then reduce the heat to a simmer.
3
Remove the stalk from the spinach, roughly chop and place in a large bowl of water so that the dirt sinks to the bottom.
Open and rinse the beans.
Remove the coriander leaves from the stalk and set aside. Finely chop the stalk and root.
4
In a separate pan, sweat the remaining garlic in a little oil.
Add the beans, a few splashes of water, and a few teaspoons of the tomato sauce. Add the washed spinach, cover and cook until the spinach is wilted.
Add the coriander stalks, mash with a fork or masher, leave on the heat and continue to mash. It doesn't have to be a puree, but you want to break up a good portion of the beans.
Taste and add salt, as needed.
5
Lay the tortillas on a flat surface and divide the bean mix evenly between them in a straight line down the middle. Tightly roll the tortillas.
6
Spread a quarter of the tomato sauce on the bottom of an oven tray or dish, place the rolled enchiladas on top and cover with the remaining sauce.
Bake for about 8 minutes, or until the sauce is just starting to brown.
Dollop on sour cream and return to the oven for another 2 to 3 minutes, until set.
7
Garnish with the reserved red onion, coriander leaves and pickled jalapeños.
Serve hot.