Some people like the cooking demos, talks, information stalls, but we'll be honest; We were there for the food. We arrived with an empty tummy and a fist full of cash, we left with an stuffed tum and an empty wallet. Tom's wife calls it her "Black Friday."
We scoped out the best of the best this year for this month's blog and we'll tell you where you can get some of these noms, even if you missed the expo.
This was one serious sandwich! Delicious house made kimchi with Angel Foods cheese in a perfectly grilled sandwich. Served with a generous helping of GDT's special rum and coke BBQ sauce. People were asking us to bottle it up and sell it. For now, we're keeping these drool-worthy items for our subscribers as part of our weekly delivery.
We could go on and on about how it was the best thing at the Expo (according to a few others on Instagram!) but we'll quickly move on.
2. Passionfruit Custard Square from No Bulls Pies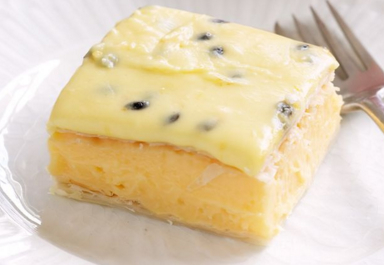 Conveniently located right beside the GDT booth. One bite was like heaven. Creamy yumminess between perfect pastry, topped with sugary sweet passionfruit. The only downside is that we don't know where we can get more! We didn't find a business listing for No Bulls Pies. If anyone has a lead let us know …
Kumbucha and kefir move over because Brod Kvas is dairy-free and has no slimey scoby. Plus the manly marketing makes us feel like we can bring it to a BBQ instead of beers and get away with it. These delicious, naturally fermented beverages are inspired by thousands of years of tradition. We snapped up a few big bottles.
4. Valsoia hazelnut spread from Nuovo Pantry
AKA nutella! YESSS! Our childhood memories no longer need to be a thing of the past! We've tried other vegan 'nutellas' but this one tastes just as delicious as the original (must be because it's Italian 😉 ). Nuovo Pantry also has some fancy ice creams by Valsoia like cornettos and ice cream sandwiches. Buon appetito!
5. Literally anything from Grater Goods
Did you check out the grazing plate at the Grater Goods stall? It was chocka with delicious vegan cheeses, deli meats and the Blu butter? Simply divine! We wanted to buy it all, but like the gracious hosts they are, they made sure there was plenty to sample, so we have no choice but to visit their deli and stock up.
6. Plant Powered Dip by Black Doris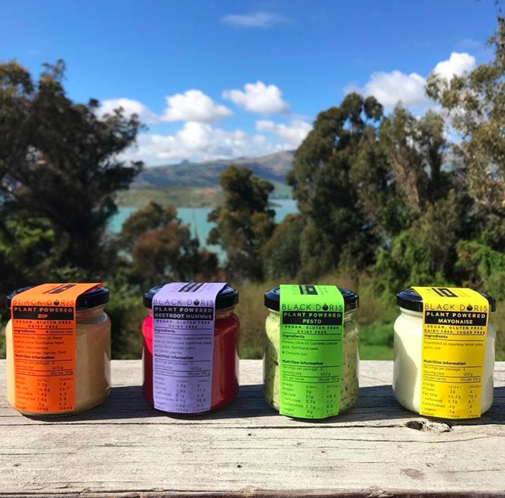 We loved Black Doris range. Talk about yum. It was hard to choose just one, so we bought everything but the mayo (Tom did just make a huge batch at the cooking demo!) The Plant Powered Dip was perfect as a little 'alfredo' sauce on a quick toddler pasta later that night.
7. Chocolate cheesecake from Moa Bakery


We're usually more into the savoury, but these cheesecakes were worth raving over. Hard to believe that in addition to being vegan, they were also gluten and sugar free! Sensitive tummies rejoice! We're glad we got them in our gob because they are from Moa Bakery hails from Oamaru. So next time you're over that way, try one!
Missed out on all the fun? Check out the hosts of the Expo, the Christchurch Vegan Society to find out about next year's event.